COVID-19: Airline Rules & Travel Regulations
The Thunder Bay International Airport Authority (TBIAA) continues to monitor developments related to the coronavirus (COVID-19). The health and safety of our passengers, employees, and the communities we serve is our top priority. To find out more on what we're doing to flatten the curve, click here.
As Canada begins to reopen and Domestic travel picks up, please ensure that you always confirm flight arrival and departure information with your airline's dedicated website, or through the booking confirmation email. To avoid any travel delays, always arrive early and immediately proceed through security screening.
Impacts on Travel
On March 17, the province of Ontario declared a State of Emergency and recommends avoiding all non-essential travel until futher notice.
On March 18, the Government of Canada announced the temporary closure of the Canadian-U.S. border to all non-essential traffic. More information here.
The Thunder Bay International Airport remains open as some flights are currently still operating as scheduled. As always, please refer to your airline website for the most up to date flight information.
For further information regarding Aviation measures in response to COVID-19 click here.
Beginning on March 30, 2020 at 12:00 pm EST:
Domestic Flights and Flights Departing Canada: Conduct a health check of every passenger before the passenger boards the aircraft and advise every passenger that they are not to provide answers that they know to be false or misleading. Further details outlined in the photo below, or more information here.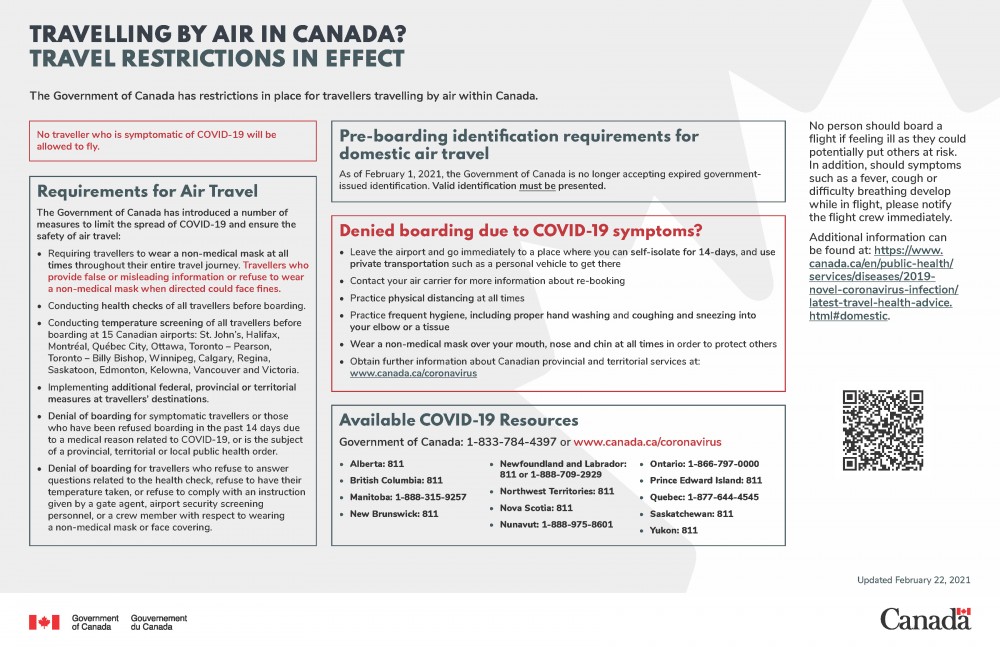 International Travel from U.S. to Canada: As of September 16, 2020 the Government of Canada has new restrictions in place for passengers coming into Canada from the U.S. More information here: COVID-19 International Travel Restrictions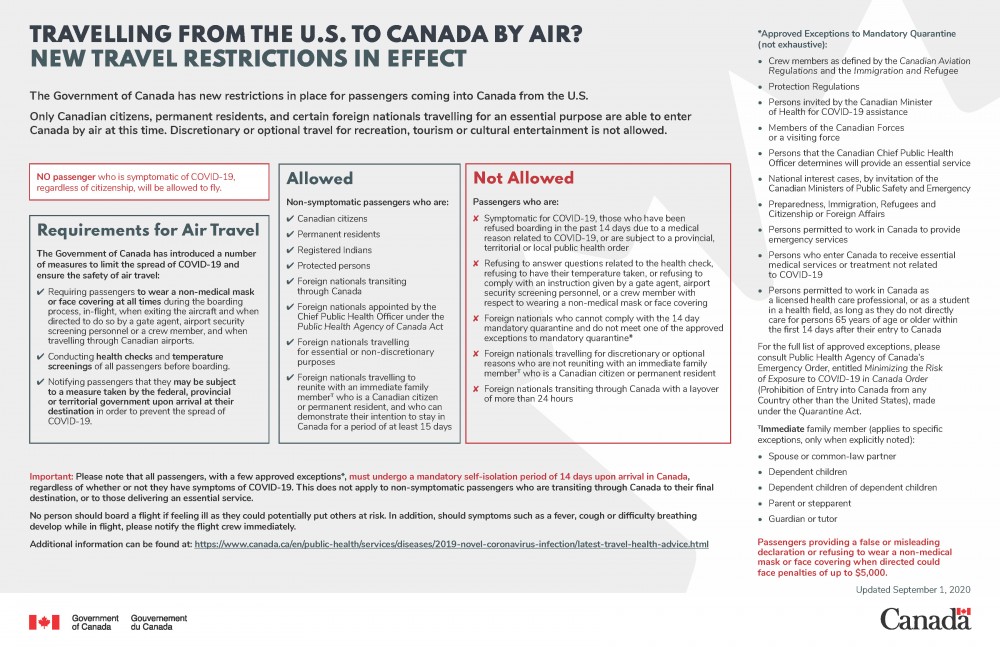 Face Masks During Travel
On April 17, the Minister of Transport announced new measures requiring all air passengers to have a non-medical mask or face covering to cover their mouth and nose during air travel. These measures come into effect on Monday, April 20 at 12:00PM EDT. More information here.

Mandatory Quarantine
On March 25, the Minister of Health, announced an Emergency Order under the Quarantine Act that requires any person entering Canada by air, sea or land to self-isolate for 14 days whether or not they have symptoms of COVID-19. More information here.
On June 11, the Thunder Bay Regional Health Sciences Centre (TBRHSC) announced that anyone travelling outside of Northwestern Ontario does not need to self-isolate upon return home from travel within Canada.
You are required to still practice personal protective measures during travel, and to monitor your symptoms when you are travelling and when you return home for 14 days. If symptoms develop, even mild, self-isolate where you are and seek assessment and testing. More information here.
Domestic Travel within Canada
As regions and provinces reopen, please be aware that if you're going to travel, many still have travel restrictions in place. The below map of Canada has been colour coded to show you the travel restrictions within each province, with travel from Ontario: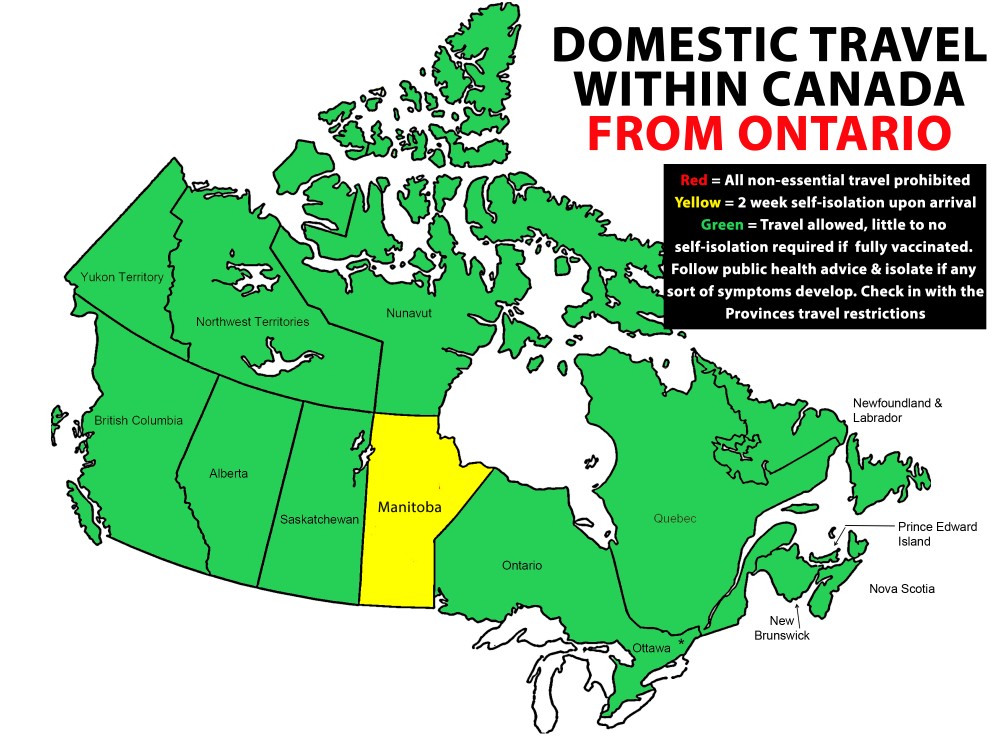 *Map last updated July 13, 2021

Additionally, further resources to provincial travel restrictions can be found here: Provincial and territorial restrictions

How to Self-Isolate
Self-isolating means staying at home and avoiding contact with other people to help prevent the spread of disease to others in your home and your community.
All persons over 70 years of age and individuals who are immunocompromised are advised to self-isolate for a period of 14 days. This means that you should only leave your home or see other people for essential reasons. Where possible, you should seek services over the phone or Internet or ask for help from friends, family or neighbours with essential errands.
When self-isolating you should:
Stay home
Do not use public transportation, taxis or rideshares
Do not go to work, school or other public places
Your health care provider will tell you when it is safe to leave
Limit the number of visitors in your home
Keep away from seniors and people with chronic medical conditions (for example, diabetes, lung problems, immune deficiency)
Avoid contact with others
Stay in a separate room away from other people in your home as much as possible and use a separate bathroom if you have one
Make sure that shared rooms have good airflow (for example, open windows)
Keep distance
If you are in a room with other people, keep a distance of at least two metres and wear a mask that covers your nose and mouth
If you cannot wear a mask, people should wear a mask when they are in the same room as you
Cover your coughs and sneezes
Cover your mouth and nose with a tissue when you cough or sneeze
Cough or sneeze into your upper sleeve or elbow, not your hand
Throw used tissues in a lined waste basket, and wash your hands. Lining the wastebasket with a plastic bag makes waste disposal easier and safer.
After emptying the wastebasket wash your hands
Wash your hands
Wash your hands often with soap and water
Dry your hands with a paper towel, or with your own cloth towel that no one else shares
Use an alcohol-based hand sanitizer if soap and water are not available
Wear a mask over your nose and mouth
Wear a mask if you must leave your house to see a health care provider
Wear a mask when you are within two metres of other people