SGE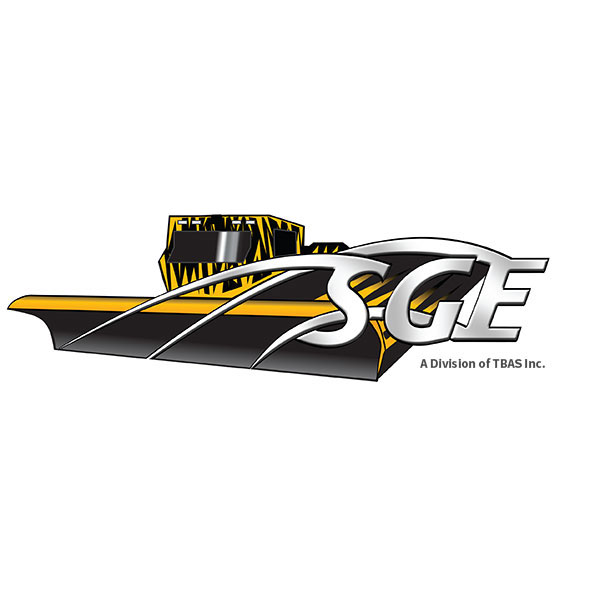 Sleeping Giant Enterprises, a division of Thunder Bay Airport Services Incorporated (TBASI), is the Canadian distributor for Boschung AG. The Boschung line of high quality, advanced technology equipment is rapidly generating a loyal following in Canada. With units in Toronto, Fort McMurray, Moncton, St. John's and Thunder Bay, Boschung is saving customers money while improving services. The Boschung line of surface maintenance equipment has been a prominent name in Europe for over 40 years.
"In February 2004, airport operators from Ontario and across Canada gathered at Thunder Bay Airport for the North American debut of the new JetBroom Runway by Boschung. Participants were not disappointed as they witnessed a truly phenomenal demonstration of airfield surface maintenance efficiency. Mild temperatures and lots of snow made for perfect conditions for the event and the JetBroom Runway's snow clearing capabilities were put to a real test."
Services
SGE Licensed Technicians provide exceptional after-sale support.
SGE stocks a large inventory of spare and wear parts.
Warranty
All SGE products come with a one year manufacturer warranty.
Products
The following information contains several links to Boschung's website as it provides a very informative multimedia experience. Please feel free to also download our brochure that outlines a wide variety of products.
Jetbroom
22' to 28' plows
up to 1000 hp
14' to 19' brooms
blowers ahead and behind the broom
vacuuming capability
gylcol recovery
wet/dry spreading
rubber removal
The optimal solution for the ever-increasing demands of airport surface maintenance.
More than 800 HP including Twin Turbine Blowers, Snow Clearing Plow with options for De-icing, Vacuum Sweeping, Liquid Recovery and Rubber Residue Removal.
Independent steering of the plow and the broom are accomplished with a Vpad.
A slightly smaller version of the JetBroom Airport allows for highway surface clearing, cleaning and sweeping within road widths.
This is a multifunctional high performance maintenence system for roads and highways both in winter (snow plowing, brush, blowing and de-icing system) and summer (sweeping/suction machine).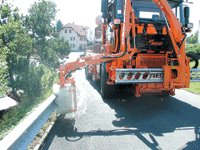 Automatic 4 wheel steering, 304 hp with joy-stick operated cutter aggregate. Speeds up to 45 km/h.
Aggregate tilts on incline (8 degrees), left/right with 40.5 cm ground clearance and rotating chimney.
Ergonomic workplace with rear access to the two person cabin and CLS-Cockpit Lifting system that changes center of gravity for constant viewing angle of the aggregate.
The booster provides comfort, power, speed and easy servicing.
Boschung's Intelligent Mobile Spreading system is designed to be the ideal spreader. Available in multiple drive formats, hopper lengths and capacities. The IMS and IMS-B are equipped with the OPTIWET distributors.
The IMS series has independent belt feeding system, maintenance free bearings and rollers, no grease points, selection of hopper capacities.
The IMS will create ideal distribution of agents at a variety of speeds and weather conditions.
OptiWet allows for perfect spreading patterns through a completely automated system.
Boschung has developed the Pony multi-purpose vehicle for airports. Equipped with a rear liquid spreader and a front broom or alternately a snow plow, it can fulfill a variety of functions airside and in terminal areas.
Simultanious snow clearing and spreading with a high-performance and flexible vehicle is a guarantee of safe and clean airport operational surfaces in the winter season.
Both of the following de-icers may optionally be equipped with:

S95 Control Panel
Thermo MAT
GPS
Borrma-Web
Capacity of solid and liquid thawing media adaptable to customer preference
Driven by auxiliary engine or vehicle hydraulic unit
Fixed or interchangeable mounting systems
Fitted with 1, 2 or 3 spinner discs
Working width 3 - 24 m.
Capacity of thawing fluids up to 30,000 litres
Driven by auxiliary engine or vehicle hydraulic unit
Fixed or interchangeable mounting systems
Fitted with 1, 2, 3 or 5 spinner discs
Working width of 3 to 38 m
Mulitple unit sizes from 2, 9, 16 and 30 thousand litres.
Advanced Technology
The VPAD controls most functions of JetBroom and Spreader Activities.
Ergonomically designed with hand rests, voice input and output, rear camera assist, touch screen functions and illuminated keys to allow intuitive control without breaking eye contact with the road.
Several options and versions available such as second displays, dual joysticks, GPS and touchscreen.
(Passive Freezing point Detection - PFD)
The PFD model is the entry level version, which does not make use of Boschung technology, however, it provides a complete set of reliable information about pavement status including:
Pavement Temp.
Pavement Status (dry, moist, humid)
Water thickness
Freezing Point temp.
Salt factor
Calculated forecast alarms
Ice type discrimination
Communication options:
Commuted or leased phone line
GSM
Radio
RS485
TCP/IP
*Optional Boschung equipment can be added.
Wind speed and direction
Visibility
Precipitation type/intensity
Air temp
Global Solar radiation
Snow depth
Others
Micro-Fast is a flush mounted anti-ice spray system monitiored can controlled by a pump station supplied in 100 m lengths.
Control unit monitors the entire system including pump and flow meter, de-icer tank, pressure monitor and spray profiles.
Spray times are adjustable between 30 seconds and 3 minutes
Only one solenoid valve every 100 m.
Adjustable spray profiles for runways, two lane roads, three lane motorways and light traffic runways.
ThermoMat is a vehicle mounted road condition device which assists with determining spreading density.
5 stage spreading selection based on continuous road temperature measurements.
Results transmitted to VPad system. Density calculations are calculated and regulated by the ThermoMat system automatically.
Results in up to 30% reduction of thawing agent.
More ecological due to optimized levels of agent.
Fewer decisions made by personnel so they can concentrate on the traffic situation.
Contact SGE
Email Malcolm Armstrong - or call 1-807-473-2623
Email Ed Schmidtke - or call 1-807-473-2602